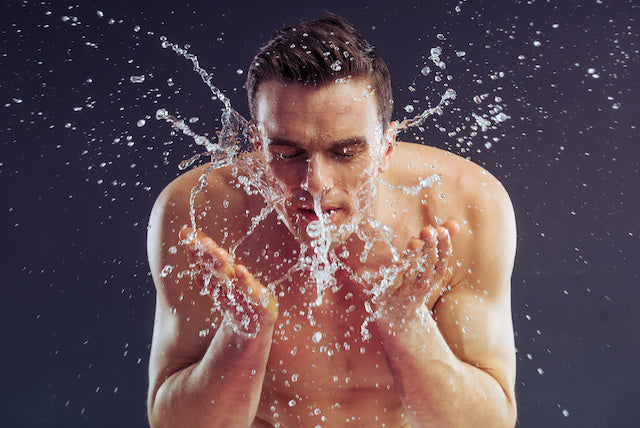 Anti-age Skin Treatment
---
You're never too old or too young to start following a proper daily skincare routine. Your face is the first thing people see and taking better care of it will keep your skin wrinkle and blemish-free – a man with clear, firm, and bright skin simply can't get unnoticed!
Ocean Empire has developed an easy manageable anti-age skincare routine specifically designed for men. Our premium selection of revolutionary anti-age products can help you achieve smoother, firmer, transformed skin that looks youthful and healthy.
Here's how to take care of your skin to look great every day all day:
DAY 
Apply PREMIER DAY SERUM FOR MEN
Ocean Empire Premier Day Serum is designed for daytime use. Apply the serum to all over freshly cleansed face and neck in the morning and as needed. This age-defying serum is specifically developed to help you nourish, replenish, and rejuvenate skin. With a rich and intensive formula, this concentrated serum reaps all benefits of Peptides. Gotu Kola improves blood circulation keeping skin tighter and firmer, while Botanical Hyaluronic Acid increases firmness and fights the sign of aging.
NIGHT
Apply SUPERIOR ANTI-AGE NIGHT CREAM
Use Superior Anti-Age Night Cream nightly after cleansing. Apply a generous amount of cream to freshly cleansed face and neck. Ocean Empire Anti-Age Night Cream helps to revive the skin as you sleep.  A powerful cocktail of ingredients in this breakthrough ultra-lift night cream has been formulated to help reduce the appearance of imperfections and improve skin texture, radiance, and firmness. Peptides, Hyaluronic Acid and DMAE fight the visible signs of aging while firming and smoothing your skin. Vitamin E and CoEnzyme Q10 are included in this cream help to achieve a more luminous, youthful look, repairing skin overnight.
Pair with ADVANCED UNDER EYE CREAM —the ultimate anti-age power duo!
Use Advanced Under Eye Cream nightly after cleansing and moisturizing. Gently pat a small amount of the cream around the eye area. The revolutionary power lift Under Eye Cream with Matrixyl 3000, MSM, and Peptides visibly rejuvenates and repairs fragile skin around the eye. Combined with dozens of botanicals, vitamins, and minerals, this perfecting Ocean Empire Advanced Under Eye Cream deeply hydrates skin reducing the appearance of fine lines and wrinkles around the eyes. Aloe Vera helps to prevent premature aging of the skin by improving the elasticity and repairing skin cells.
And remember, like with a healthy diet, the key is consistency- following this daily skincare routine will greatly benefit you in the long run.
Feel confident at any age!