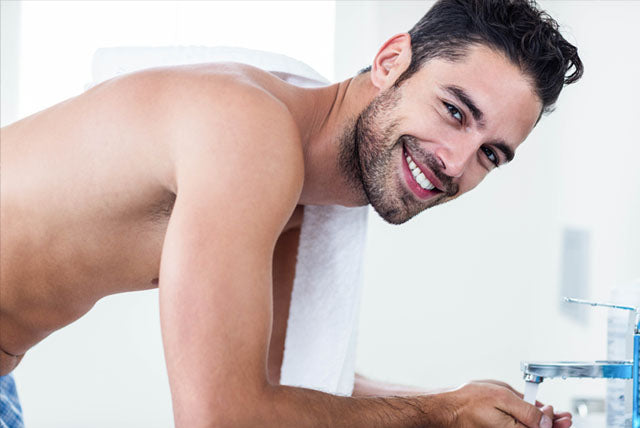 Essential & Easy to follow Men's Skincare Routine
---
Your skincare routine doesn't need to be complicated. With as little as just three Ocean Empire products, you can create an effective daily skincare routine that will work for your skin.
Wash your face twice a day with Detoxifying Charcoal Face Wash that was designed specifically for men's skin. It is formulated for all skin types and can be used on the face and body.
This gentle aloe-based wash with activated bamboo charcoal cleanses your skin without drying or irritating. With the help of natural ingredients, including Tea Tree, Borage, and Olive oils, the Ocean Empire deep cleansing and detoxifying wash for men foams a gentle and effective lather that rinses away pore-clogging impurities and excess oil.  It enhances skin texture and minimizes the look of pores over time, leaving skin feeling fresh and comfortable.
Scrub your face with Exfoliating Face Scrub after cleansing your face. Formulated with the powerful blend of natural ingredients, this luxurious exfoliant scrub effectively polishes off dead skin cells, eliminating imperfections and fine lines. The perfect combination of Shea Butter and Vitamin E nourishes skin while exfoliating to reveal radiant skin. It is enriched with Avocado, Hemp, and Grape Seed Oils to protect the skin and help to maintain hydration.
Our face scrub for men is the foundation of our superb men's skincare system. Use it 1 – 3 times a week, depending on your skin type. Men with oily skin should exfoliate more often, while men with sensitive and dry skin should do it less often. It is especially good for post-gym or pre-shave. Also, before a shave, it is recommended to scrub the shaved area with the Ocean Empire face scrub to discourage ingrown hairs and bumps.
After your skin is clean, apply a thin layer of our Essential Hydrating Moisturizer for men that pH balanced for all skin types. It deeply hydrates for softer, healthier-looking skin. Aloe Vera, Jojoba Oil, and Shea Butter combined in this formula improve skin elasticity and protect against dehydration. Empowered by Witch Hazel and Green Tea, this moisturizer helps to soothe skin, reducing itching, redness, and irritation, leaving it fresh and supple. Infused with a powerful blend of deeply hydrating ingredients, this moisturizer also perfectly doubles as an aftershave balm.