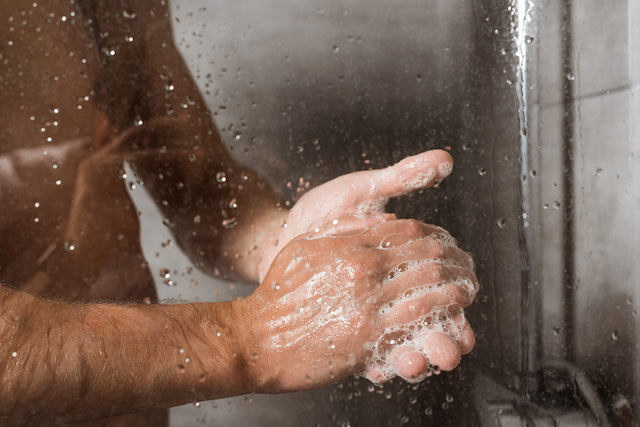 Regular Soap or Face & Body Wash?
---
You've got soap, body wash and face wash. Wouldn't it be easier and cheaper to buy a bar of regular soap and to use it for everything? What is the difference between all of them? Usually, everyone thinks all three of these items are the same thing, but they are not.
When you're choosing a product to wash 90% of your body, it pays to make an informed decision about what you're actually getting. Regular soaps are known to dry out skin, as many contain the chemical sodium hydroxide. Some soaps can remove essential lipids and proteins, and alter the skin's pH level, which can cause skin irritation especially for men with sensitive skin. At the same time, it's best for everyone to avoid parabens and phthalates, as they are actually quite harmful to the body.
The factors that determine how good soap, face or body wash is, comes down to the ingredients contained in each. Reading labels will be your biggest help to determine which product will be the best for your skin. Hence, it might be best for your skin to adopt a rule to never use regular bar soaps on your face or body. Try to look for mild body and face washes with moisturizing properties since these won't strip your skin of essential nutrients.
Here are some of our favorite Ocean Empire products:
Detoxifying Charcoal Face Wash for men:it contains activated bamboo charcoal that cleanses your skin without drying or irritating. With the help of natural ingredients, including Tea Tree, Borage, and Olive oils, this deep cleansing and detoxifying aloe-based wash foams a gentle and effective lather that rinses away pore-clogging impurities and excel oil. It enhances skin texture and minimizes the look of pores over time, leaving skin feeling fresh and comfortable. Formulated for all skin types and can be used on the face and body.
Revitalizing Body Wash for men:this body wash gently cleans leaving skin hydrated and fresh all day long. With the help of Olive oil, it softens and nourishes the skin, maintaining your skin's natural moisture balance. Combined with natural Chamomile extract this Body Wash balances, soothes and revitalizes the skin. Free from parabens, phthalates, and harsh detergents.